Have you even been to a live show at Findlay Toyota Center and noticed that the performers are wearing some sort of earbud in their ear? What you saw was most likely a musician monitor, a crucial piece of technology used by singers and musicians when performing live.
What Are In-Ear Monitors?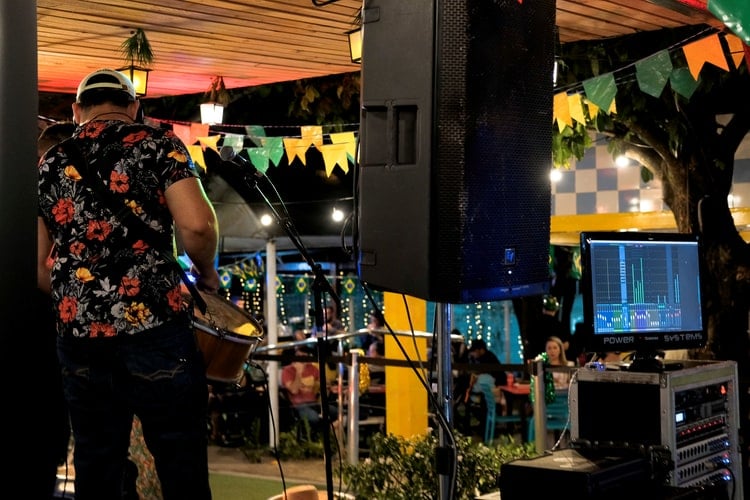 These in-ear monitors, known as IEMs or musician monitors, allow the performers to listen to the music they are playing. Performing in a live show on a stage with an engaged crowd can get really loud, which makes it almost impossible for you to monitor how you sound.
An in-ear monitor contains an earpiece, a transmitter and a body-pack receiver. The transmitter is usually positioned off to the side of the stage close to the mixer, which is what is used to balance each instrument in the band. The transmitter sends this audio information to the body-pack receiver that is plugged into the earpiece worn by the performer.
In-Ear Monitors vs. Speaker Monitoring
Speaker or wedge monitoring involves setting up a speaker that faces the performers, rather than the audience. This allows the band to hear what they sound like.
In-ear monitors are easier to use than stage speakers, and their small size makes them significantly easier to travel with. They also provide high quality sound. The stage speakers can cause feedback or create an issue that takes away from the band's sound, while in-ear monitors offer clearer sound directly into the performers' ears.
Playing in a band puts your hearing health at risk. According to the National Institute for Occupational Safety and Health (NIOSH), music-induced hearing loss happens slowly and over a long period of time. Any sound over 85 decibels (dB) can cause hearing damage. NIOSH measured orchestra musicians and found that:
Percussionists were regularly exposed to sounds measuring 95 dB
Flute/piccolo players regularly exposed to sounds measuring 95 dB
Brass players were regularly exposed to sounds measuring 92-97 dB
When musicians monitor their performance with stage speakers, this adds an additional level of sound exposure. In-ear monitors offer noise-canceling features that make the mix easier to hear and protect your ears at the same time.
How Musicians Can Protect Their Hearing
Since musicians rely on their ability to hear subtle pitch differences in their music, protecting your hearing is important. Some simple ways to protect your hearing include:
Playing music at a lower level when in rehearsal
Getting a yearly hearing test
Giving your ears a rest by taking breaks in a quiet area
Wearing hearing protection
To learn more about how musicians can protect their hearing or to schedule an appointment with a hearing professional, contact Prescott ENT today.